WiFi You Can Rely On
Whether you're in the basement, the garden or the living room, you want all your WiFi devices to work smoothly. The ASUS Lyra mini whole-home mesh WiFi system uses three wirelessly connected hubs to deliver a superfast, reliable and secure signal to every corner of your home.
Its intelligent technology gives you the freedom to roam anywhere around the house, automatically connecting you to the best signal at all times.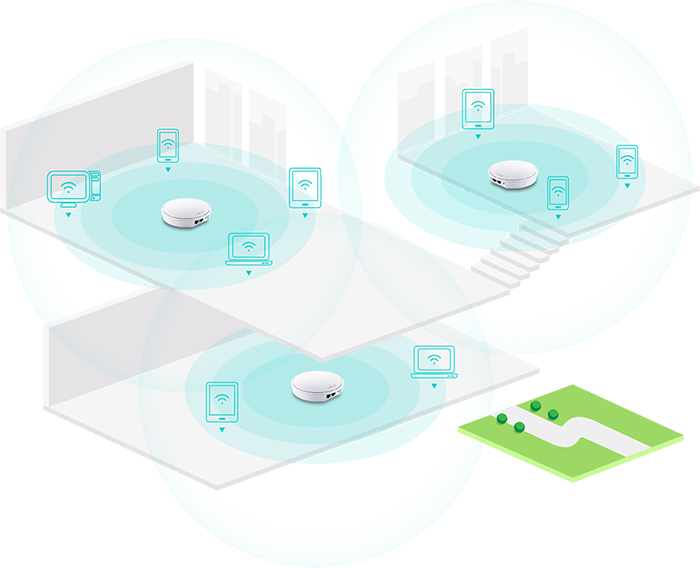 Powerful Whole-home WiFi System. The Way You Want.
In most cases, your Lyra mini can deliver smooth, reliable WiFi to every part of your home. But WiFi coverage can be affected by many factors — room layout, construction materials, and even furnishings. ASUS AiMesh is an innovative new router feature that fixes these problems: it creates a whole-home WiFi network using multiple ASUS routers. AiMesh is powerful, flexible and you can use a mix of ASUS router models — protecting your investment! AiMesh gives you time-saving central control, and seamless roaming capability.
Learn More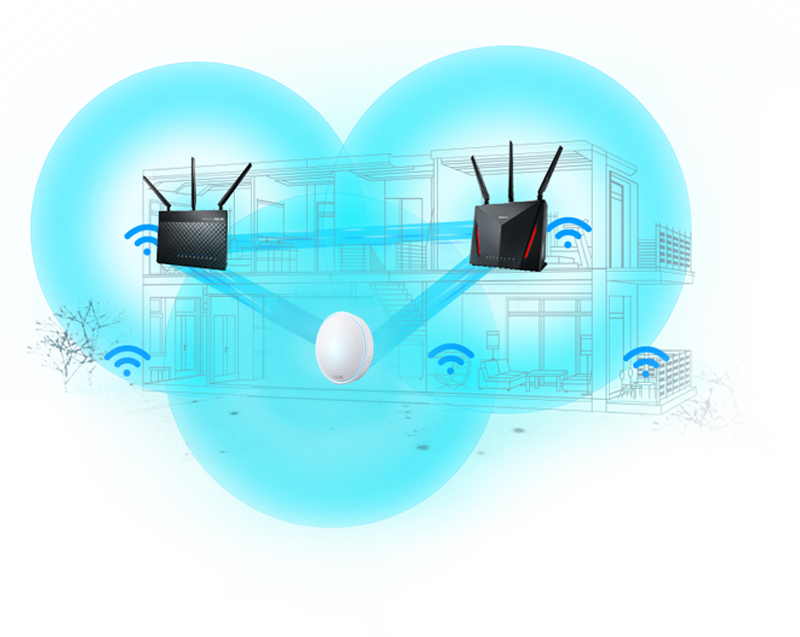 Mix and match Lyra mini with AiMesh-compatible routers to form a whole-home WiFi system with simple firmware update
Create a network with either a single WiFi name or multiple WiFi names
All router features works across the entire WiFi system
Always-Smooth WiFi
ASUS Lyra mini intelligently connects you to the best signal source and switches seamlessly between hubs without interruption as you move through your home — so you'll always enjoy a smooth, strong signal.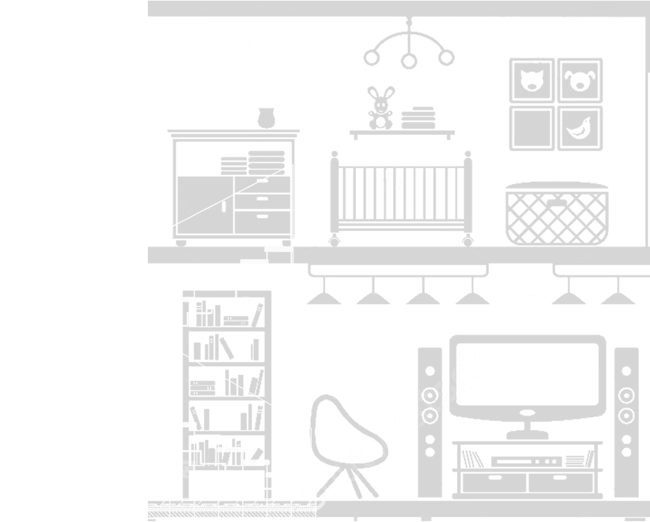 Without Roaming
When moving between rooms you have to switch manually to the best WiFi source. You can't tell which one has the best signal.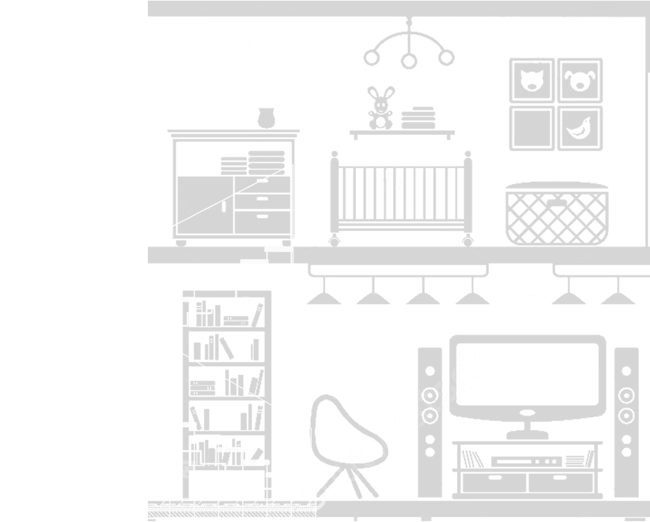 With Roaming Technology on Lyra Mini
Lyra Mini automatically and seamlessly connects your devices to the hub with the strongest WiFi signal, wherever you are. WiFi is simple again!
WiFi, Made Simple
With ASUS Lyra mini, we've made WiFi simple. Lyra mini creates a single WiFi network for the entire house, so there's no need to worry about which network to connect to — Lyra mini does all the complicated work for you. All you have to do is enjoy your seamless WiFi connection!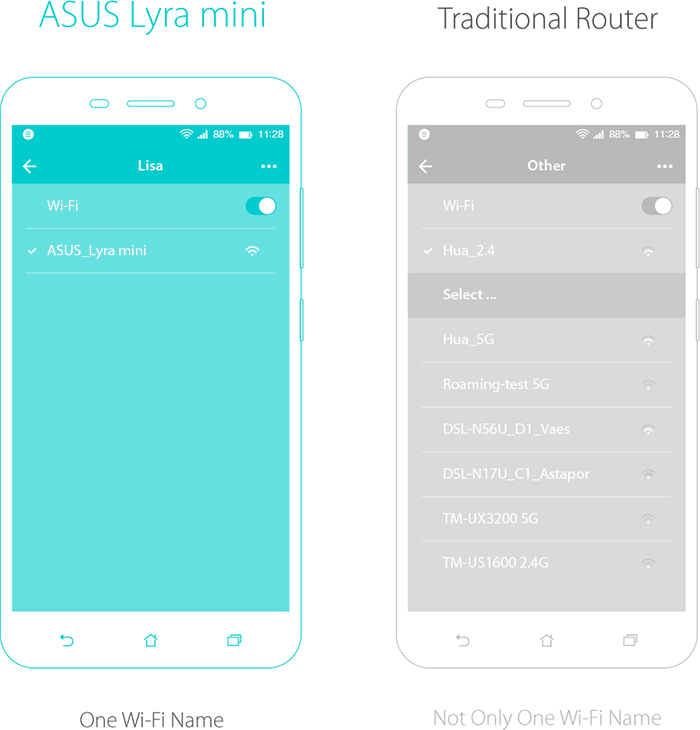 How Many Lyra Mini Hubs Do I Need?
Lyra mini uses multiple hubs to make it supremely flexible for any environment: no matter what size or shape your home is, Lyra mini gives you all the coverage you need!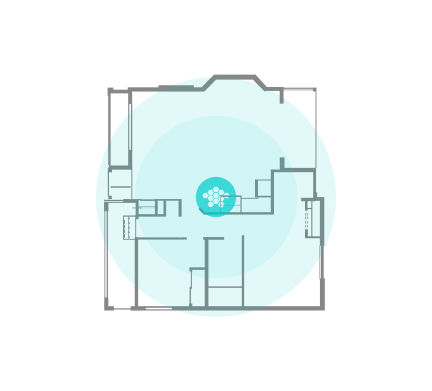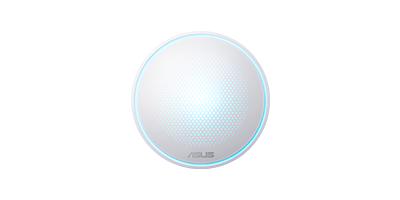 Small Home
< 1200 sq. ft.
1-Pack Lyra mini hub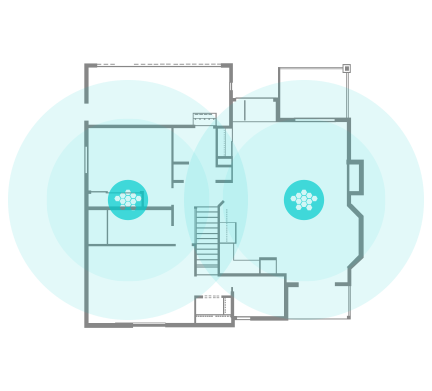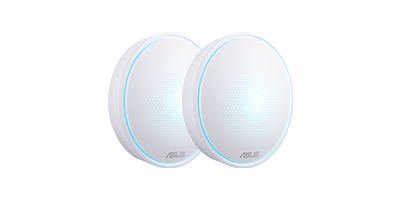 Middle Home
1200-2400* sq. ft.
2-Pack Lyra mini hubs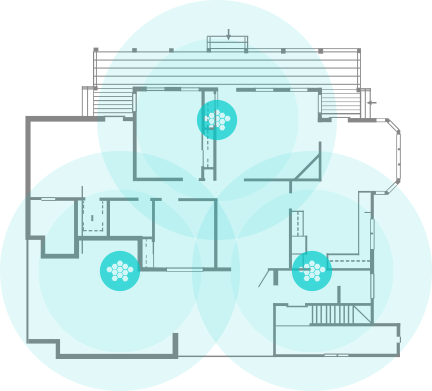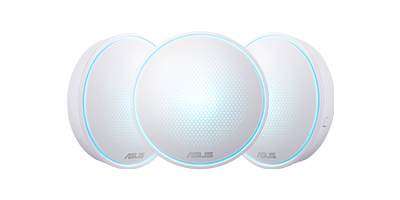 Large Home or Multi-Story Home
2400-3600* sq. ft.
3-Pack Lyra mini hubs
Lyra mini, for Any Home
No matter what shape your house is, ASUS Lyra mini can cover it. The Lyra mini base system includes three hubs, and more hubs can easily be added to provide even more coverage.
It is recommended to place the primary Lyra mini Hub in the middle, so that the second and third hubs can connect directly to it. This reduces the number of hops, and therefore allows lower latency.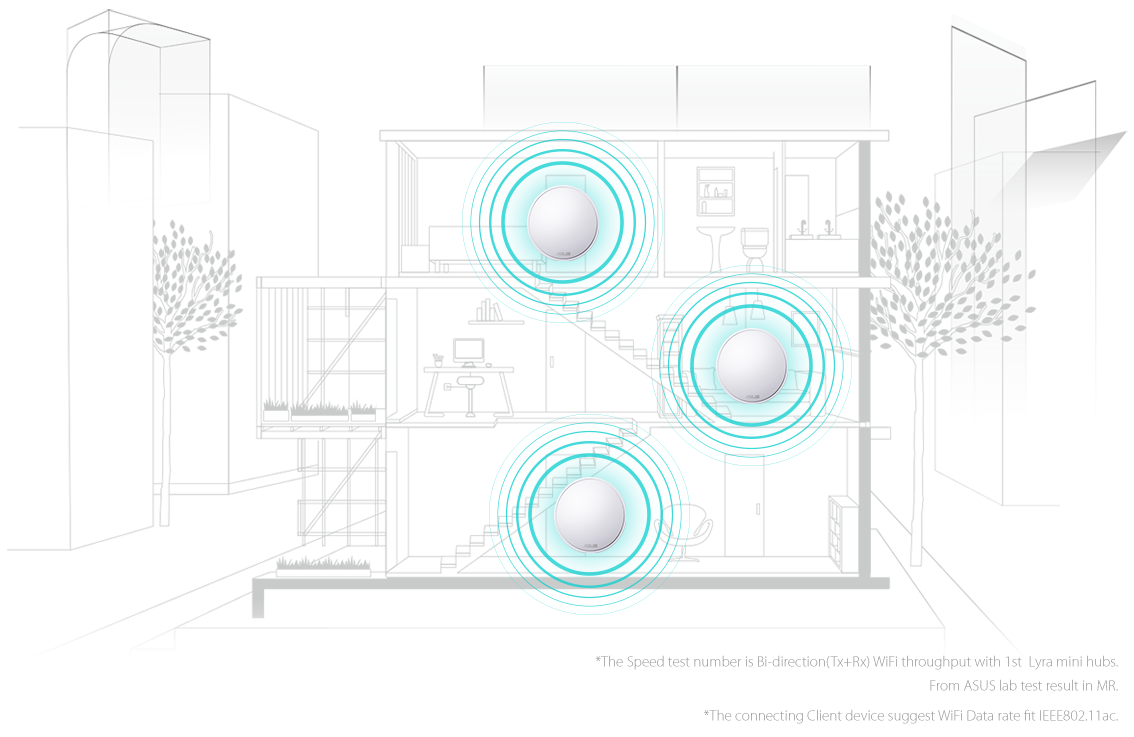 Townhouse

Traditional
Two-Story Home

Ranch Style Home
More Stable WiFi with Wired Connections between Lyra mini Hubs
Lyra mini supports Ethernet backhaul, which means you can use network cables to connect multiple hubs together. If you have on-wall Ethernet ports in different rooms of your home, this feature lets your routers communicate with one another over a wired connection, making your WiFi system even more stable and reliable. It also reserves the entire 2.4GHz and 5GHz band for your wireless devices, letting you enjoy smoother and faster connections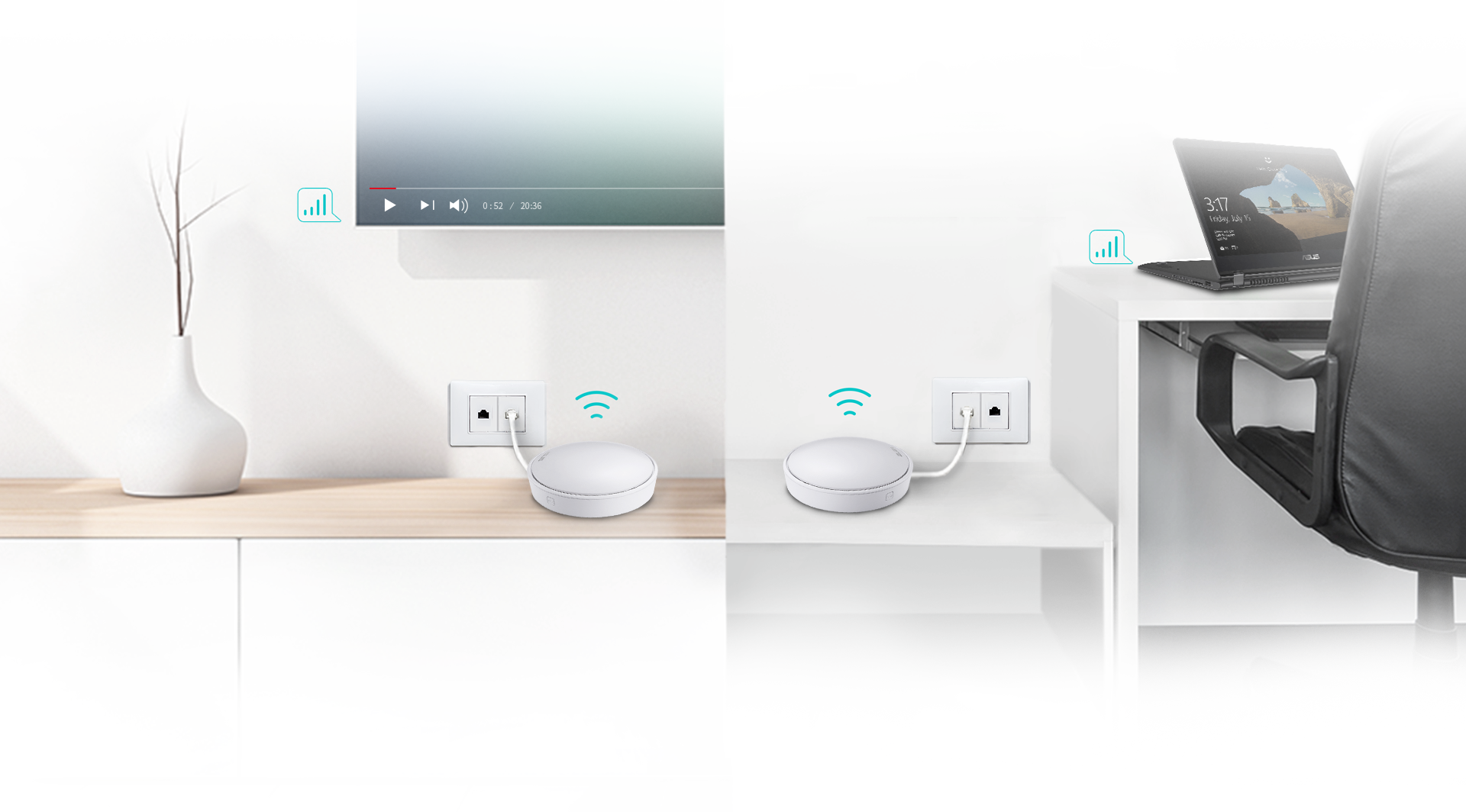 Commercial-Grade Home Network Security
ASUS AiProtection, powered by Trend Micro™, is built into Lyra mini to add comprehensive protection to your home network. With AiProtection, all your connected devices — including smart home (IoT) appliances — are protected to prevent your personal data from being compromised.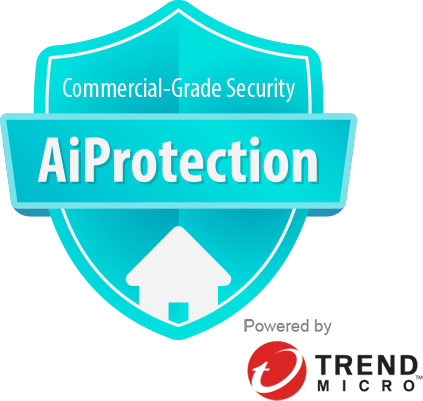 Protection Against Attacks
Intrusion Prevention System (IPS) blocks all common internet-based attacks.

Block Access to Malicious Websites
AiProtection uses Trend Micro's official database to identify and block known malicious sites, preventing infection even before you click.

Free Lifetime Subscription
Some routers come with additional fees for security coverage or provide free protection for a limited period only, but Lyra has you covered for the life of the product.

Infected Device Detection and Blocking
Even if an already-infected device is connected to Lyra mini, AiProtection prevents any personal data on the device from being compromised.
Get Ready for a Smarter Home
Your home is getting smarter than ever, so your router should be smart too. Lyra mini works with Amazon Alexa, so you can integrate it into your smart home with ease to make your life easier. For example, you can just tell Alexa to prioritise the video streaming packets to ensure smooth movie experience by simply saying 'Alexa, ask ASUS Router to turn on the Media Mode'.
Pause for thought
WiFi Pause turns off the internet for a while — perfect for when you need some quality family time!
Advanced Parental Controls
ASUS Lyra mini lets you keep a watchful eye on your family's internet usage, and adjust the time/application allowance for each family member. State-of-the-art parental controls let you block specific type of mobile apps and websites, while allowing free access to the rest of the internet.
One App for All
With the ASUS Lyra mini app you can set up, manage, and diagnose your network — even without a PC! To get started, turn on your Lyra mini hub and connect it using the ASUS Lyra app. Complete your Lyra mini network details, then click Connect. After about a minute you'll be up and running!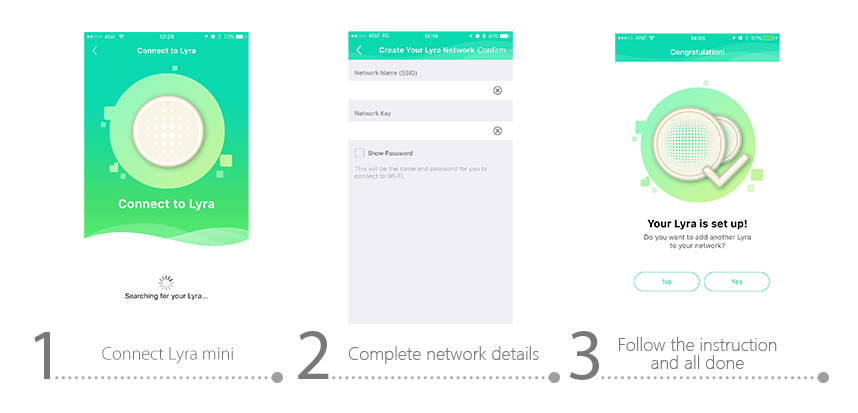 Add Extra Lyra Mini Hubs, with No Hassle!
Adding an extra Lyra mini hub to your network is easy. Simply follow the on-screen guidance in the ASUS Lyra app: Tap Add Lyra to Current Network; turn on the hub; choose your network; and assign a location. That's all there is to it!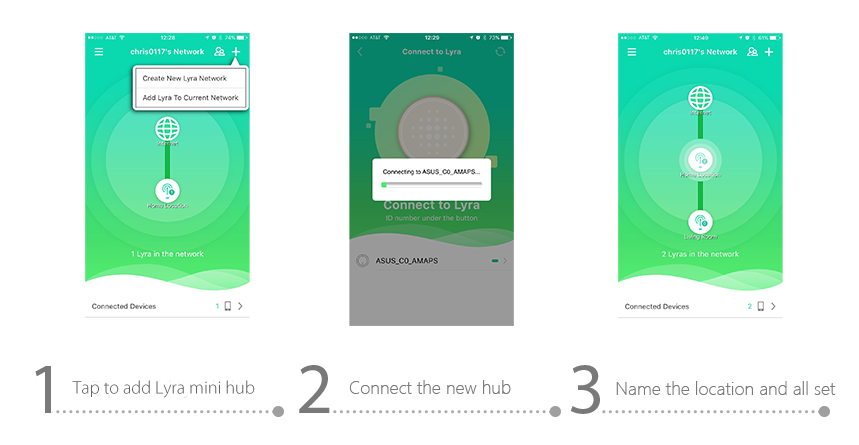 *Actual setup proces varies according to different environment and conditions. App interface issubject to change.
Stay Informed
The Lyra app automatically gives you key status updates and notifications, alerting you when a new device connects, if there's unusual login activity, or when new updates are available.
Safe and Secure
Lyra mini keeps your network protected at all times, and the Lyra app tells you when threats are blocked or when the security software has been updated.