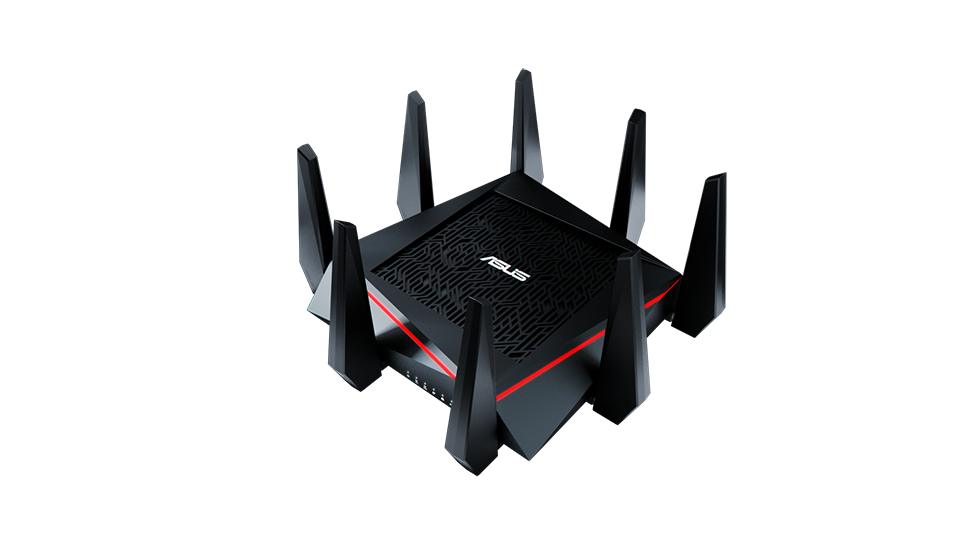 Move your mouse to view 360° rotate
With the wide Wi-Fi coverage, tri-band Smart Connect, enterprise-level link aggregation, revolutionary MU-MIMO plus AiProtection, the top-of-the-line RT-AC5300 is incredibly well-rounded.
Watch the video
Ultimate Gaming and 4K Streaming
NitroQAM™ Technology – Seamless Experience
Whether you're gaming online in a heated competition or streaming a live event in 4K UHD, lag and buffering are simply not an option. NitroQAM™ (1024-QAM) technology on the RT-AC5300 delivers a combined 5334 Mbps Wi-Fi speed, ensuring everyone on your network can enjoy smooth streaming and low-latency online gaming.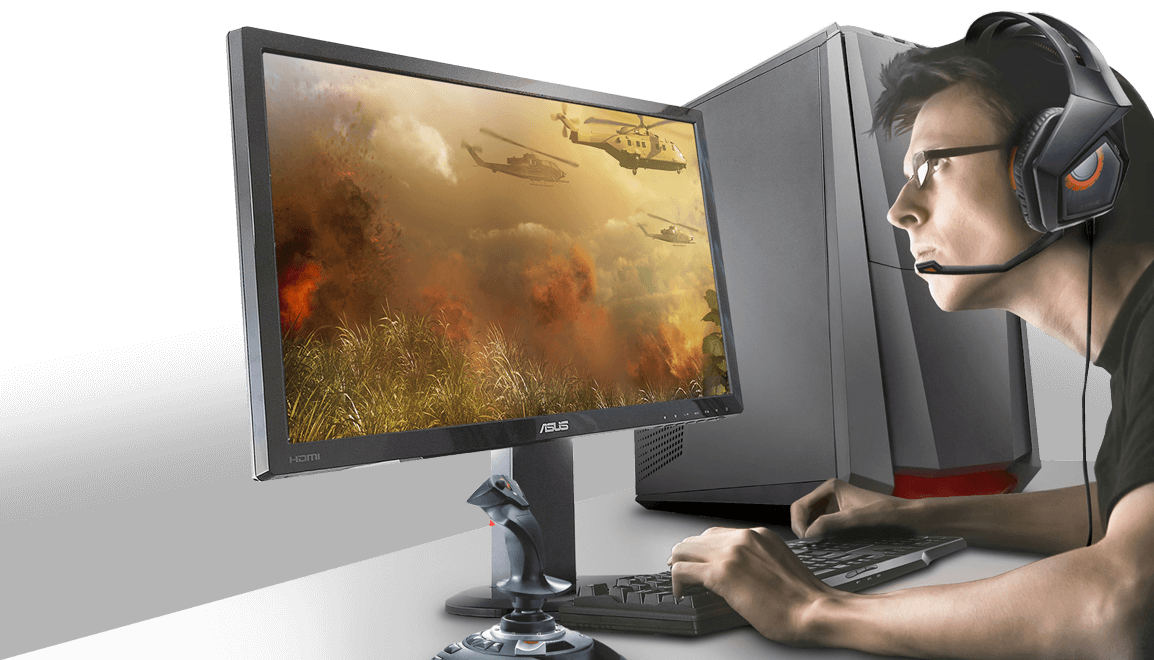 DOUBLE GAMING BOOST
Enjoy low-latency online gaming
with boosted internet and home network performance!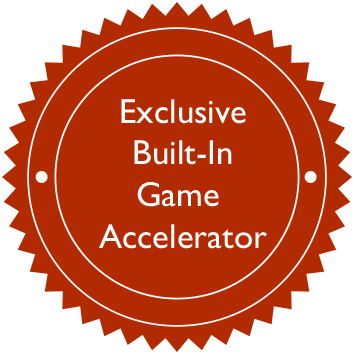 Free Game Accelerator Inside
Ping time and variance are critical technical parameters that affect responsiveness in online gaming, and their values depend heavily on the route game packets take to and from their destination. The Gamers Private Network
®
 (GPN
®
) from WTFast
®
 automatically performs route optimization, choosing the most efficient route for game packets, resulting in consistently-lower ping time and minimal packet loss. With RT-AC5300 this optimization is free for accelerating one selectable device at a time, so you can enjoy the results on supported competitive multi-player online games
1
. Check out supported games list and more information about WTFast router edition 
here
.
Avg. ping time

30%-60%

Avg. ping variation

70%-90%

Avg. packet loss

70%-90%
Congested traffic slows down data speed and gameplay
Optimize Internet connection and speed in online games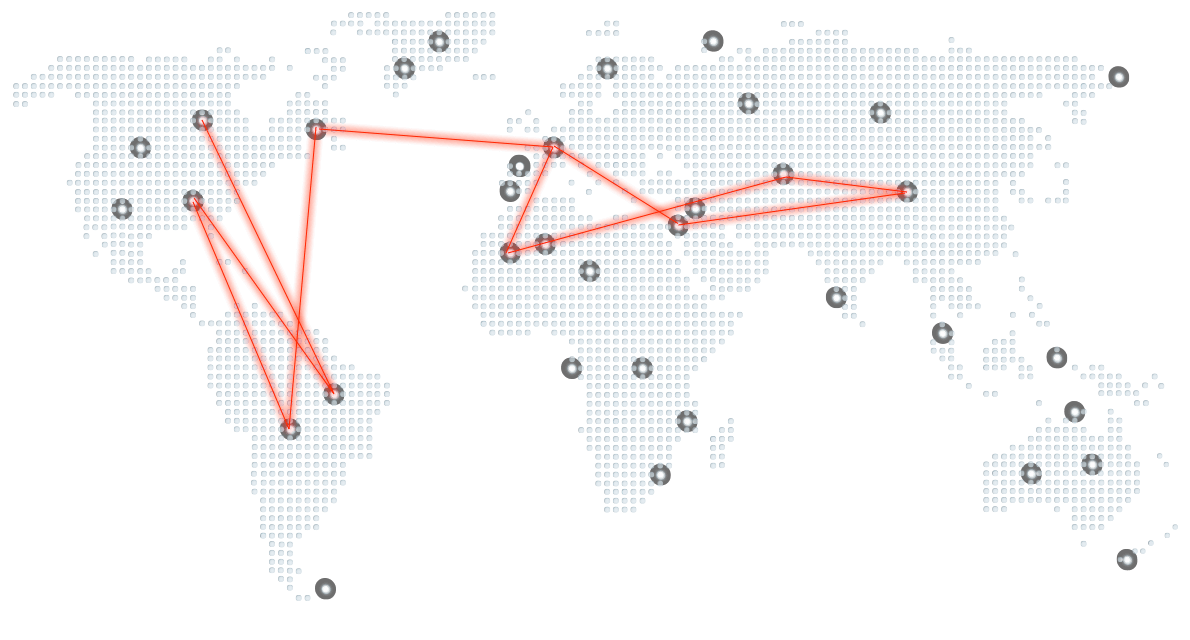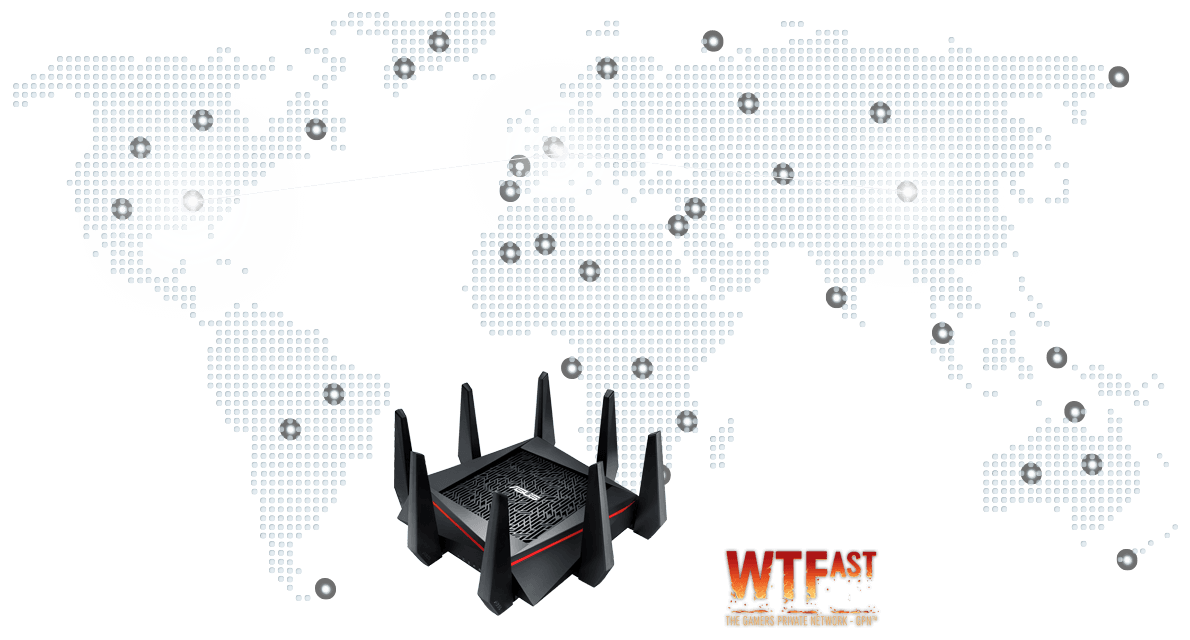 Cross-Platform Compatibility
Network speed impacts every device you game with on every platform you game on. The ASUS RT-AC5300 delivers bandwidth and coverage for all your gaming devices, from consoles to PCs to mobile devices
*
, and supports every operating system, including Windows
®2
, Mac OS
®3
 and Linux
®4
.

*WTFast® compatibility for games on consoles and mobile devices is now under development. The schedule of availability depends on actual situation. Please check supported game list for the latest information.
Adaptive QoS – Prioritize Your Game
Boost your gaming bandwidth with Adaptive QoS (Quality of Service), which allows you to easily prioritize gaming packets and activities. You can even assign full dedicated bandwidth while gaming under gamer solo mode, making RT-AC5300 the perfect ally for low latency gaming anywhere in your home. It supports major consoles including PlayStation®3, PlayStation®4, PS4™ Pro, PlayStation®Vita, Wii U, 3DS and Xbox One.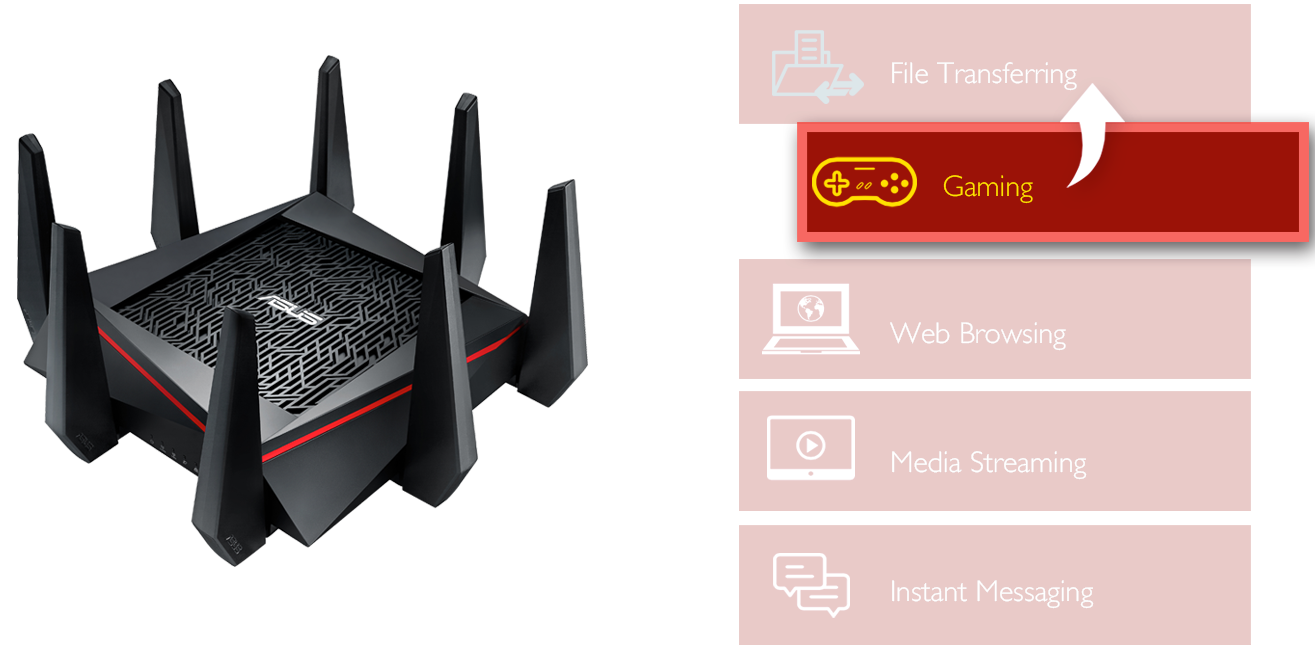 Free Up PC System 'Resources' During Gameplay
Networking is only half the equation when it comes to game performance. Anti-virus programs and 3rd party applications can consume valuable CPU and memory that could be reallocated to your game. With AiProtection on the RT-AC5300 you can confidently turn off these utilities while you game, ensuring every available drop of resource is spent enhancing your game.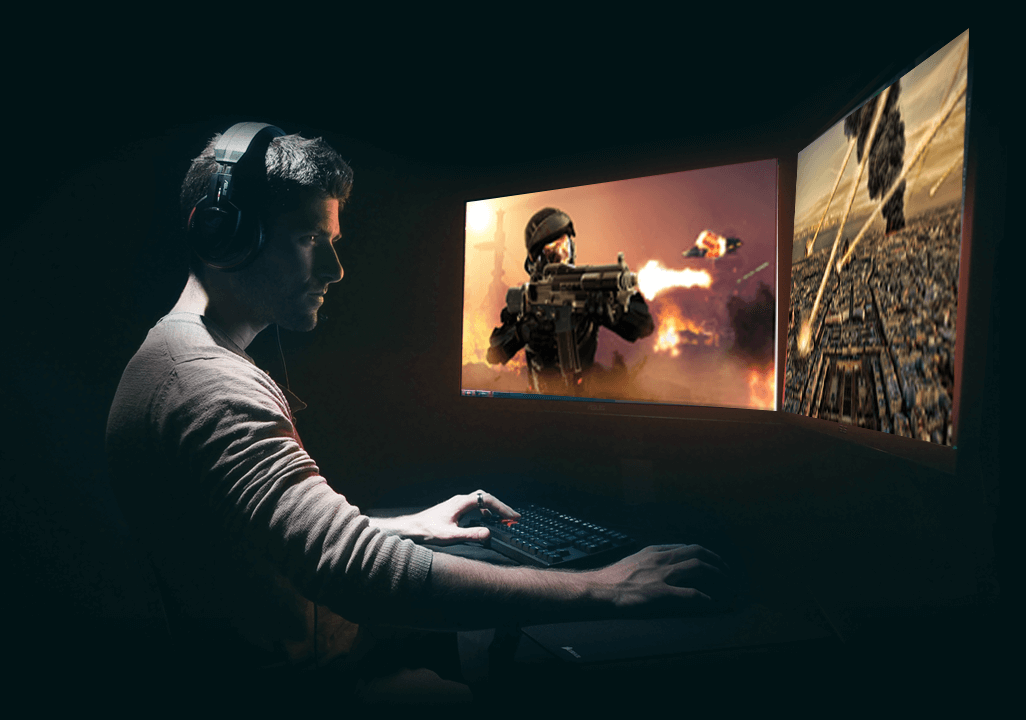 Everywhere Entertainment in Your Smart Home
Bandwidth for All
RT-AC5300 is the master of entertainment, with its ability to support multiple devices and multiple Full HD 1080p streams. Beyond content consumption, the RT-AC5300 enables a smarter home, supporting IP cameras, thermostats and a variety of devices you don't even own yet.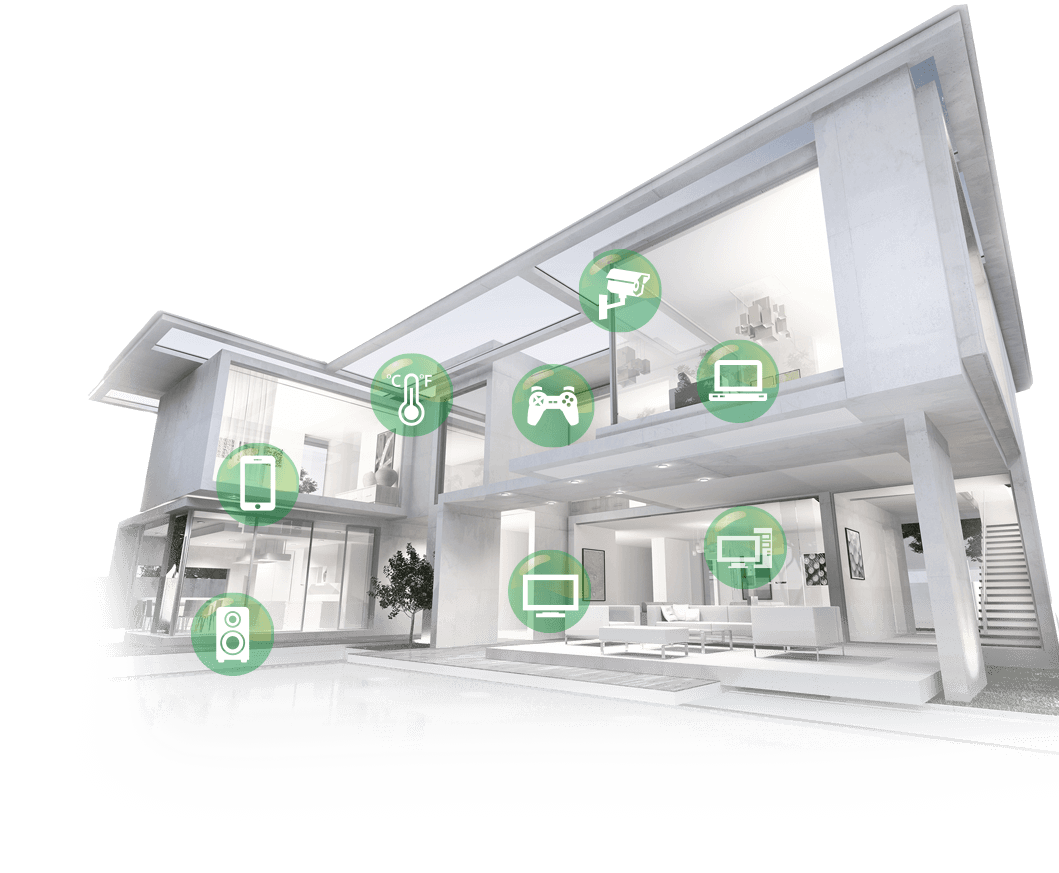 Unbeatable Wi-Fi Coverage
With a four-transmit, four-receive (4T4R) antenna design, both Wi-Fi range and signal stability improve dramatically. AiRadar beamforming further focuses the Wi-Fi signal on your devices, making your Wi-Fi faster, clearer and stronger.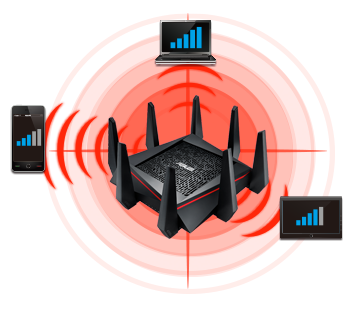 RT-AC5300
with AiRadar beamforming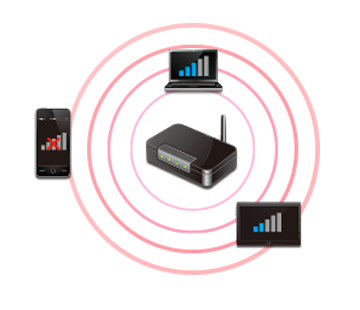 Other Routers
without AiRadar beamforming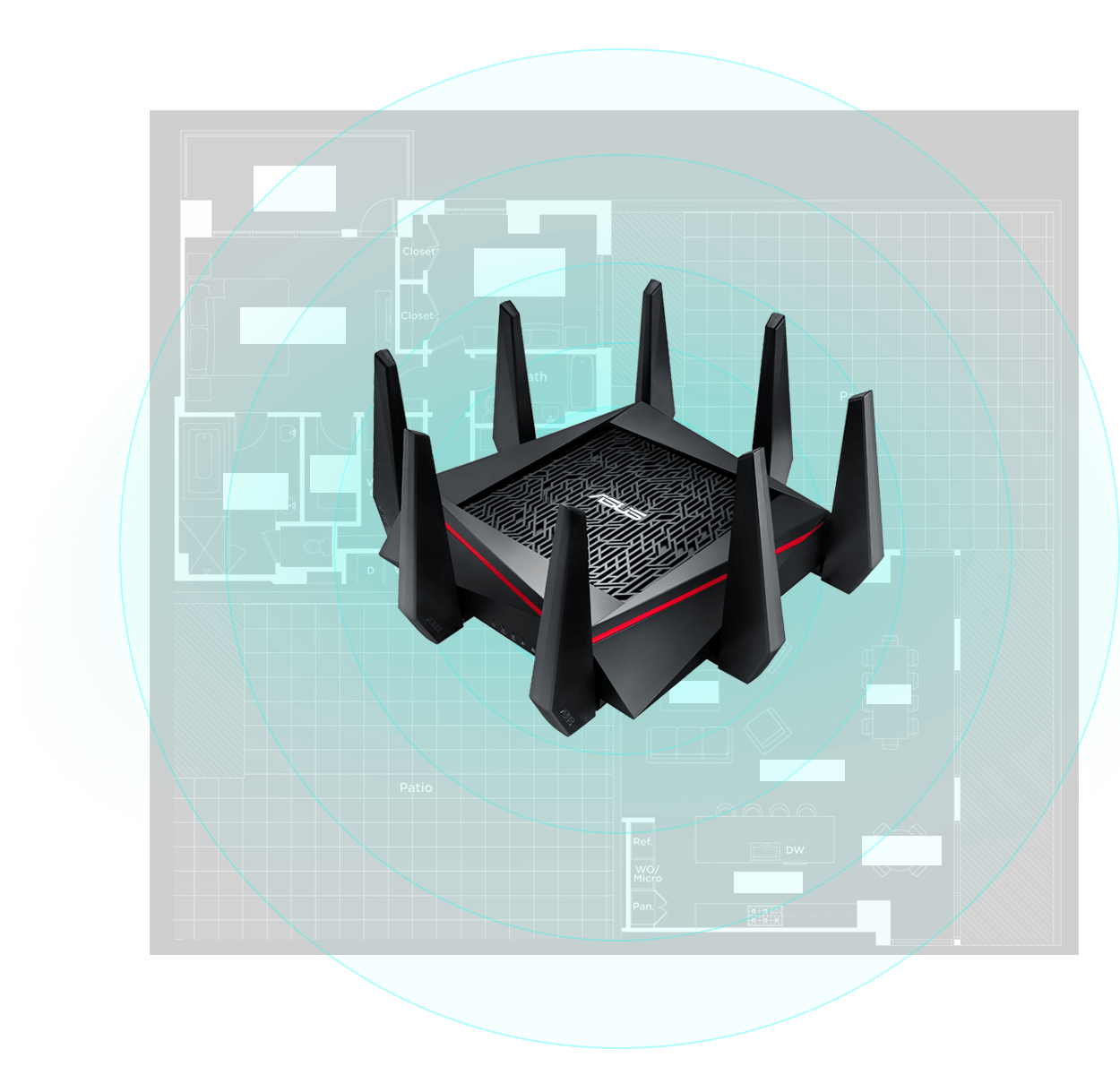 Powerful Whole-home Wi-Fi System.
The Way You Want.
In most cases, your RT-AC5300 can deliver smooth, reliable Wi-Fi to every part of your home. But Wi-Fi coverage can be affected by many factors — room layout, construction materials, and even furnishings. ASUS AiMesh is an innovative new router feature that fixes these problems: it creates a whole-home Wi-Fi network using multiple ASUS routers. AiMesh is powerful, flexible and you can use a mix of ASUS router models — protecting your investment! AiMesh gives you time-saving central control, and seamless roaming capability. AiMesh is Wi-Fi you can rely on — for all your devices, all the time!
Turn your ASUS routers into whole-home Wi-Fi system with a simple firmware update
Mix and match preferred models from selected ASUS routers
Create a Wi-Fi network with either a single SSID or multiple SSIDs
All router features works across the entire Wi-Fi system
More Bands Means More Devices
Having an ASUS RT-AC5300 is like having three wireless routers in one. The two separate 5 GHz wireless bands — each with speeds up to 2167 Mbps — and the single 1000 Mbps 2.4 GHz wireless band all work simultaneously. This means you can enjoy lag-free online gaming, smooth 4K video streaming and uninterrupted file downloading on every device connected to your home network.
Tri-band Smart Connect – Automatically Chooses the Best Band Available for You
Tri-band Smart Connect intelligently assigns each device to best available band. This means you get better range and faster, more reliable connections consistently without the need to manually re-connect to the best band available.

Powerful Processor, Faster Transfers
RT-AC5300's top-of-the-line 1.4 GHz dual-core processor brings its computational capability to the next level. USB data transfers enjoy up to over 100 MB/s speed and the router download/upload speed (WAN-LAN throughput) up to 1800 Mbps
5
.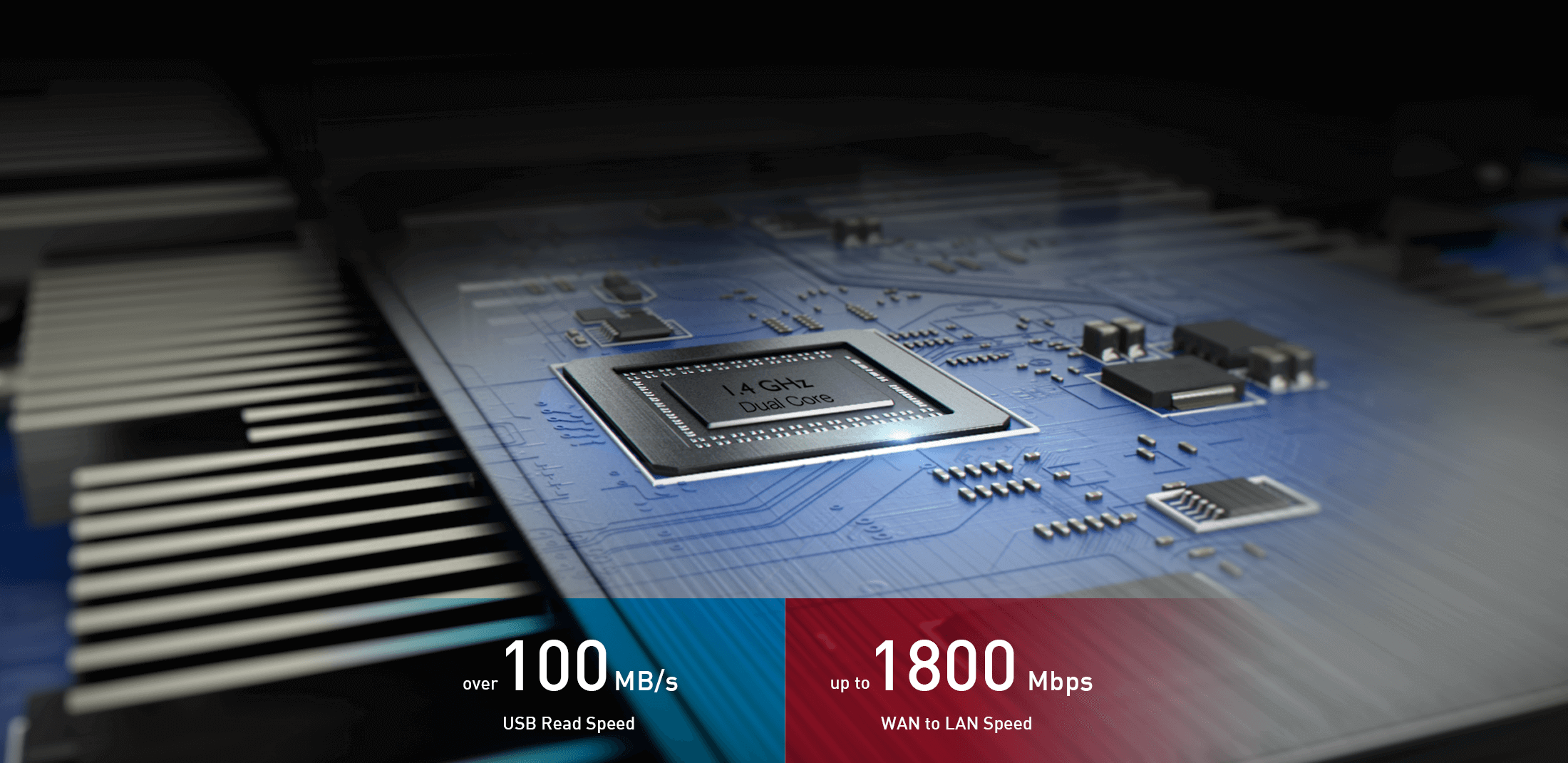 Multiple Capacity Wi-Fi with Revolutionary MU-MIMO Technology
MU-MIMO gives every compatible device
6
 its own dedicated full-speed Wi-Fi connection, so that multiple devices can connect at the same time without slowing down the network.
In fact, RT-AC5300 is able to connect to multiple MU-MIMO-compatible clients at each device's maximum speed simultaneously, unlike standard single-user MIMO where individual devices have to wait for sequential transmissions
7
.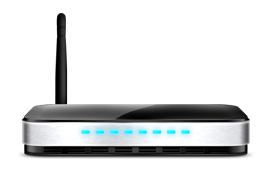 Single-user MIMO
Serve one device at a time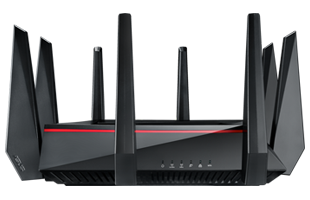 Multi-user MIMO
Serve multi-device at a time
AiProtection – Your Digital Playground is Protected
ASUS AiProtection powered by Trend Micro™ improves your online safety and security by combining automatic vulnerability detection, malicious site blocking and parental controls.

Parental Controls
Monitor and Restrict Internet Activity for Any User
Advanced parental controls help you to prevent users from visiting inappropriate websites, for example keeping young children safe from viewing adult content. You can also restrict the times that each device or guest account can access the internet, by applying scheduled time limits.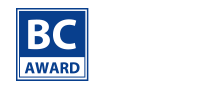 Learn more about ASUS AiProtection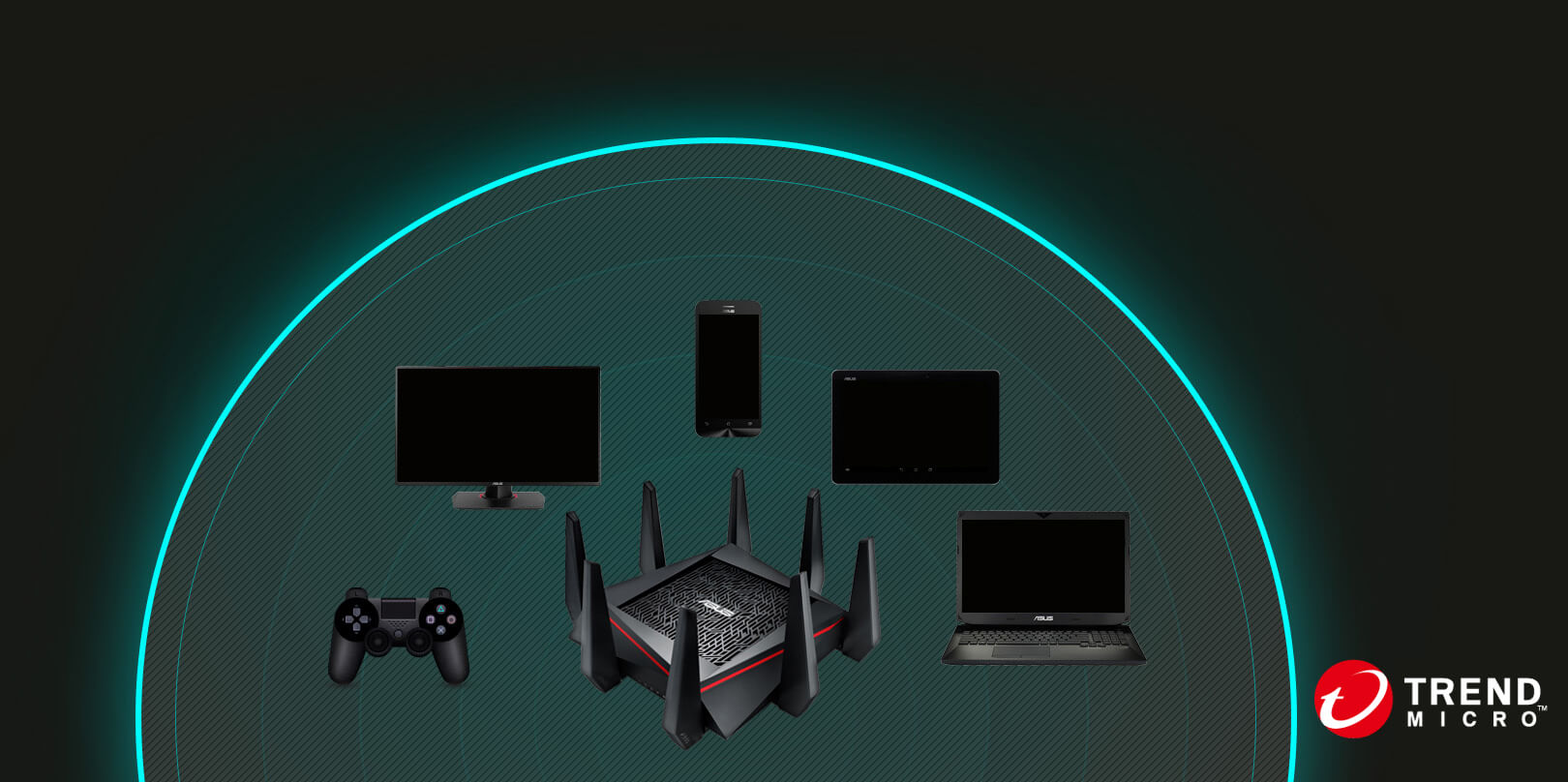 Your Digital Home Hub and Network Center
Extensive Connectivity Options
With 4 Gigabit LAN ports on RT-AC5300, you can connect up to four Ethernet-compatible devices simultaneously. Non-Wi-Fi devices like your Smart TVs, game consoles, set-top boxes, media players, NAS storage devices and more in your home now can have their own exclusive dedicated ports, making RT-AC5300 your digital home hub.

Your Sharing Center
With built-in USB 3.0 and USB 2.0 ports, you can connect USB-enabled devices, such as external storage drives, printers, or a 3G/4G dongle to your ASUS router and share them conveniently with other users via Wi-Fi. And with USB 3.0, you can enjoy up to 10X faster data transfer speeds.
Link Aggregation, More Devices Go Faster!
RT-AC5300 features Link Aggregation, which combines two teaming LAN ports (the 1st and 2nd port) into one superfast wired connection for up to 2 Gbps using two Gigabit Ethernet cables
5
. With Link Aggregation enabled on your NAS, clients can unlock unprecedented transfer speeds.


*Device speeds vary according to Wi-Fi specifications and environmental factors.
ASUSWRT – Easily Control Your Network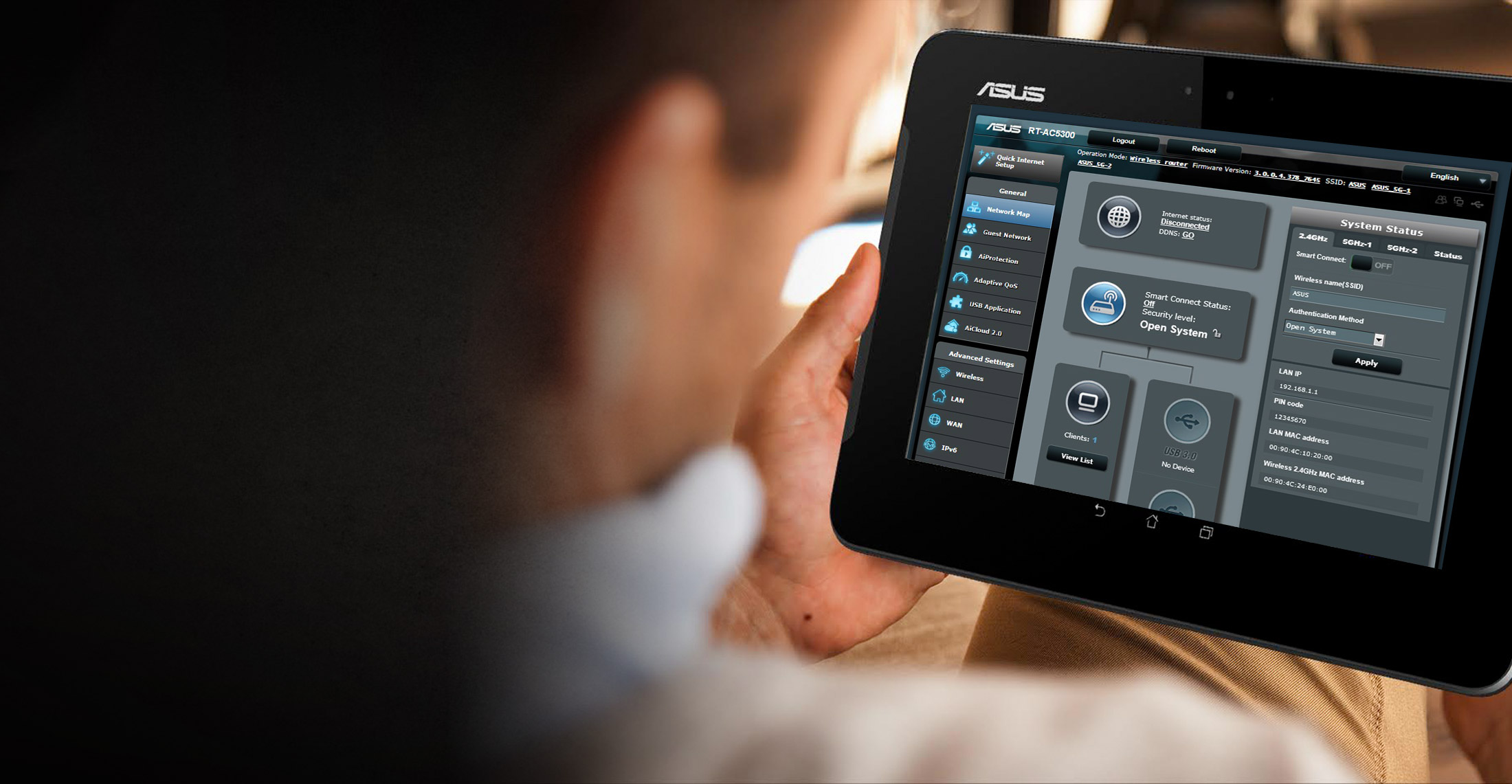 RT-AC5300 features the enhanced, intuitive ASUSWRT user interface, which gives you easy access to both the 3-step web-based installation process and a wealth of robust advanced options.
Control Your Network Anywhere

 ASUS Router App
In your increasingly mobile-enabled life, having control over your network via an app is more important than ever. The new ASUS Router App is built from the ground-up to be both intuitive and robust, allowing you to setup your router, manage network traffic, diagnose connection issues and even update firmware, all without needing to boot up a PC.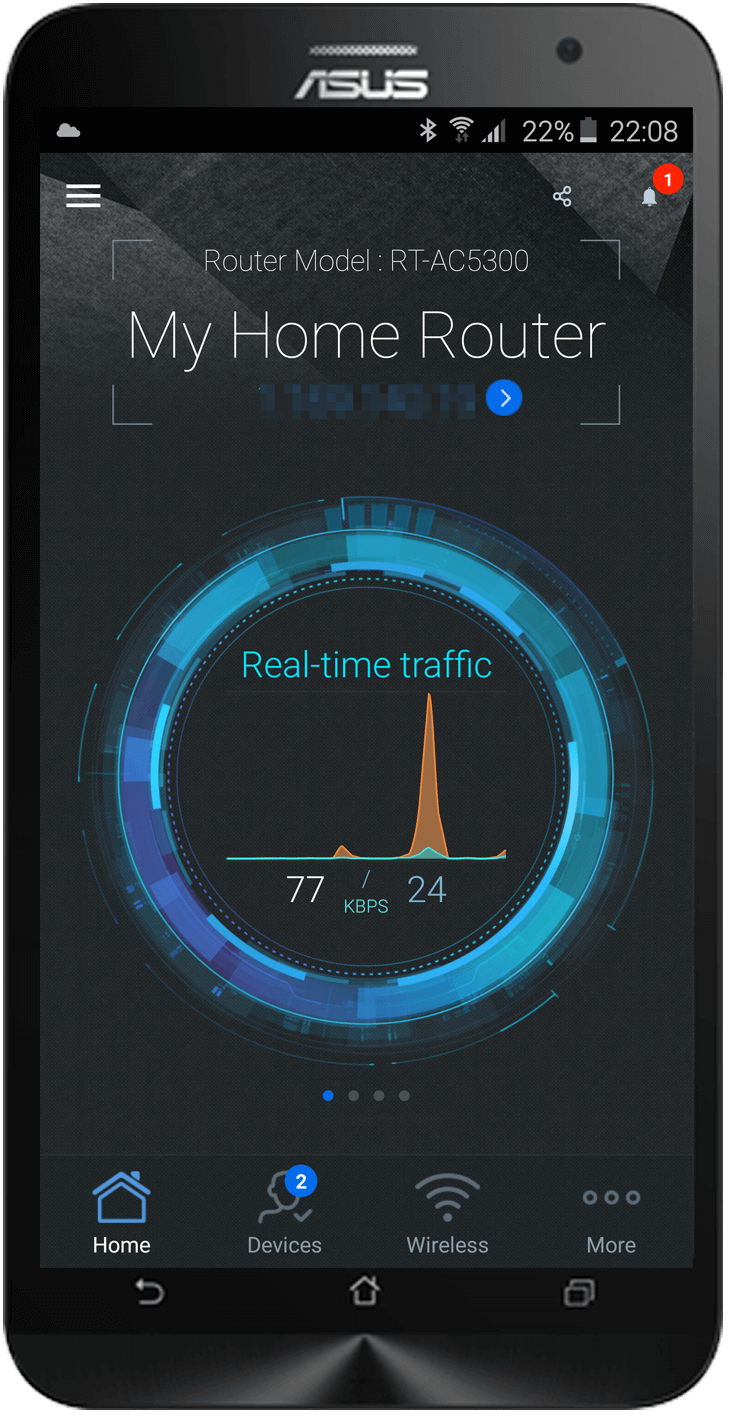 Easy Router Setup
Real-Time Traffic Monitoring
One-click Game Boost
Effortless Guest Wi-Fi Sharing
Clever Network Diagnosis
Handy Firmware Update